Temple University Football Chooses 8K Solutions for Practice Facility Video Solutions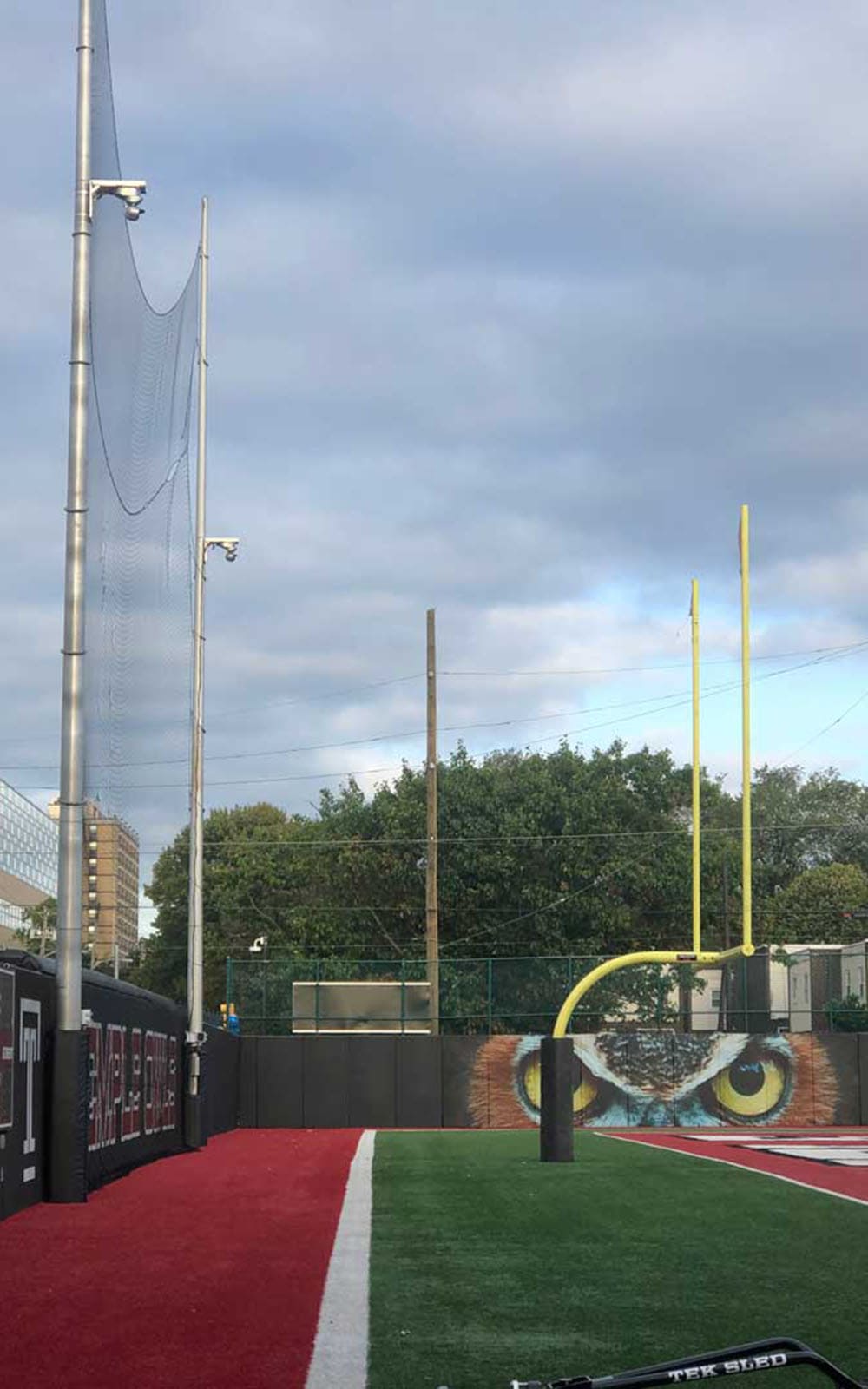 8K Solutions is partnering with Temple University Football to provide the first customized remote camera solution in the country that will help coaches make the most of their outdoor practice facility.
"We listened to Temple's needs so that they could maximize use of their outdoor practice facility," said Dan Aton, founder and CEO of 8K Solutions. "We developed a unique solution that will deliver the quality coaching video expected while keeping the video staff safely on the ground."
Space at the outdoor practice facility is limited and video staff could not work if winds exceeded certain levels due to safety concerns. 8K Solutions worked with Video Coordinator Blake Yunker and the coaching staff to develop a remote camera and control system for the field. Cameras are anchored to the field goal posts and are operated by a portable console the size of barbecue grill at the base of the field goal.
"Safety has been the biggest change for us," said Blake Yunker, video coordinator at Temple Football. "Our coaches want to make the most of our outdoor facility. We've had a couple of practices that we would not have been able to shoot if we were still using the lifts."
The only other option available is to move practices to the indoor facility, requiring all student-athletes and staff to be bussed. Yunker said 8K Solutions asked the right questions and understood the need to balance safety, ease-of-use and quality.
"They listened to us and to our needs. They heard what our coaches were saying and they came through," said Yunker.
For Yunker, the learning curve in transitioning to the new system was easier than expected. Now, Yunker can show the students who shoot practice video changes to their shots in real-time as opposed to waiting to review video after practice. This improved the quality of video delivered to coaches and student-athletes.
Results have been so positive that Yunker, Temple and 8K Solutions are working on additional solutions to leverage the program's existing technology to enhance coaching opportunities with student-athletes.
8K Solutions products are developed by a team with more than a century of combined experience in sports video and technology. The company partners with some of the best professional and college football teams, and professional hockey teams. Feedback and learning from each installation are incorporated into product evolution in order to continuously improve.
"Our partners are key to helping us grow and develop new technology to make athletic practices and preparation safe and effective," said Bob White, vice president of sales and marketing, 8K Solutions. "Our team is committed to helping all of our team partners be their best."