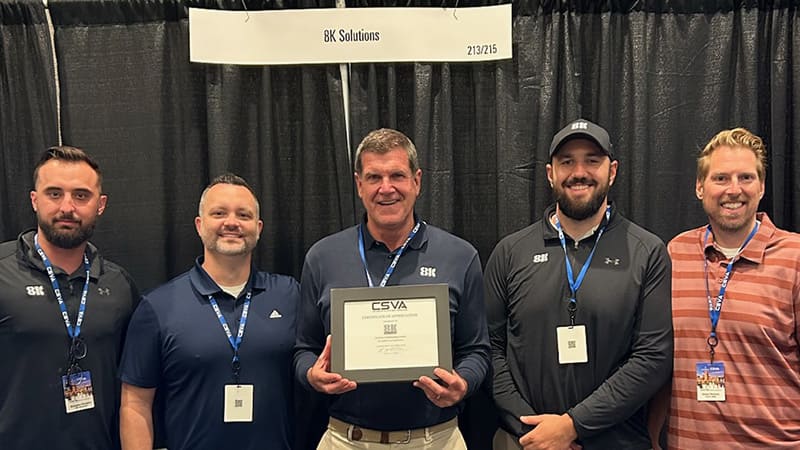 BALTIMORE – 8K Solutions was named Vendor of the Year by the Collegiate Sports Video Association during its annual conference recently.
8K Solutions is a leading provider of innovative coaching video solutions for elite sports programs. Nearly half of NCAA Div. I college football programs deploy 8K Solutions technology. The company's technology is developed based on the needs and input of its users, many of whom are collegiate video directors working alongside coaching staffs.
"We are proud to work with such a hard-working, dedicated group of coaching video specialists," said Bob White, president and chief revenue officer for 8K Solutions.
"The men and women working behind the cameras and with coaching staffs care deeply about the work they produce and the staffs they lead. We are successful because they are so collaborative and work to raise the performance bar higher for their profession."
8K Solutions first product, mastRcam, is a remote control, broadcast-quality camera mounted on a trailered mast that can be raised and lowered. mastRcam came into being after a series of accidents involving video staff members atop lifts meant for the construction industry. One of those accidents resulted in the death of a student video manager. Every NFL team uses mastRcams and approximately 40 percent of all NCAA Div. I college football teams have them. Recently, additional sports using outdoor practice fields have begun using them.
8K Solutions full range of technology includes camera solutions — mastRcam and SmartField remote PTZ permanently mounted camera networks — and coaching solutions — Lyvve Coach practice instant replay using the highest quality video boards possible, WalkThroughWall lifesize meeting room video wall compatible with all existing evaluation and replay programs, and 3D Playbook which allows any team member or unit to review up to 60 customized plays within 10 minutes.
8K Solutions leadership has worked in sports technology for more than 30 years, introducing breakthrough technologies and building relationships. For more information, visit 8ksolutions.com